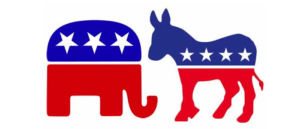 SANCTITY OF HUMAN LIFE
Proud to be the party that protects human life
Offers real solutions for women
Strongly opposes infanticide
Specifically supports the Born-Alive Abortion Survivors Protection Act
Supports a human life constitutional amendment
Supports a ban on abortion at 20 weeks; when babies can feel pain
Supports a ban on abortion based on sex or disability
Supports a ban on dismemberment abortion
Supports abortion clinic safety regulations
Supports a ban on human cloning, creating or experimenting upon human embryos
including three-parent embryos
Supports a ban on any sale of body parts
Supports a ban on the use of public funds to perform or promote abortion or to fund organizations, like Planned Parenthood
REDEFINING MARRIAGE
The American family is the foundation of civil society,
and the cornerstone of the family is natural
marriage, the union of one man and one woman.
Condemns the Supreme Court's ruling in Obergefell v.
Hodges and urges its reversal. (court ruled same sex
couples have a fundamental right to marry)
LGBT AGENDA, TRANSGENDER BATHROOMS, AND WOMEN'S SPORTS IN SCHOOL
We embrace the principle that all Americans should be treated with dignity and respect
We support measures barring "government discrimination because of one's marriage and family."
Supports "the right of parents to determine the proper medical treatment and
therapy for their minor children"
Opposes Title IX being used "to impose a social and cultural revolution upon the American people by wrongly redefining sex discrimination to include sexual orientation or other categories."
Opposes "reshaping our schools – and our entire society – to fit the mold of an ideology alien to America's history and traditions."
Opposes President Obama's Title IX transgender bathroom edict. It is "illegal, dangerous, and ignores privacy issues."
ABORTION AND THE LGBT AGENDA INTERNATIONALLY
Opposes the federal government funding abortion overseas and supports restoring the Mexico City Policy, to prevent federal money from going to NGOs which "provide or
promote abortion," or are complicit in China's one-child policy.
Condemns the Obama administration for "imposing on foreign recipients, especially the peoples of Africa, its own radical social agenda while excluding faith-based groups.
CONSCIENCE RIGHTS IN HEALTHCARE
America's healthcare professionals should not be forced
to choose between following their faith and practicing
their profession. We respect the rights of conscience
of healthcare professionals, doctors, nurses,
pharmacists, and organizations, especially the
faith-based groups which provide a major portion of
care for the nation and the needy.
RELIGIOUS LIBERTY
We strongly support the freedom of Americans to act in accordance with their religious beliefs, not only in their houses of worship, but also in their everyday lives.
Ongoing attempts to compel individuals, businesses, and institutions of faith to transgress their beliefs are part of a misguided effort to undermine religion
and drive it from the public square.
We value the right of America's religious leaders to preach, and Americans to speak freely, according
to their faith.
The government is constitutionally prohibited from policing or censoring speech based
on religious convictions or beliefs.
INTERNATIONAL RELIGIOUS LIBERTY
Affirms the importance of the U.S. Commission on International Religious Freedom.
Promises "A Republican administration will return the advocacy of religious liberty to a central place
in its diplomacy, will quickly designate the systematic killing of religious and ethnic
minorities a genocide, and will work with the leaders of other nations
to condemn and combat genocidal acts."
GOD IN GOVERNMENT
If God-given, natural, inalienable rights come in conflict with government, court, or human-granted rights, God-given, natural, inalienable rights always prevail.
We support the public display of the Ten Commandments as a reflection of our history and our
country's Judeo-Christian heritage.
Entire platform mentions 15 times.
THE COURTS
We support the appointment of judges who respect traditional family values and
the sanctity of innocent human life.
Seeks to "enable courts to begin to reverse the longline of activist decisions- including
Roe, Obergefell, and the Obamacare cases.
SEX EDUCATION
Supports "sexual risk avoidance education that
sets abstinence until marriage as the
responsible and respected standard of
behavior."
EDUCATION CHOICE
Will "fight for school choice" and "local control."
Recognizes that parents, not the government, are a child's first and foremost educators.
Supports homeschooling, private schools, vouchers, and tuition tax credits.
Encourages teaching the Bible as an elective in public schools.
SOCIAL EXPERIMENTATION IN THE MILITARY
We reject the use of the military as a platform for social experimentation and will not accept
attempts to undermine military priorities and mission readiness.
Supports "the religious freedom of all military members, especially chaplains, and will not
tolerate attempts to ban Bibles or religious symbols from military facilities."
Opposes the "Selective Service registration of women for a possible future draft."
---