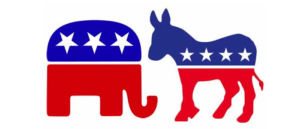 SANCTITY OF HUMAN LIFE
Supports "repealing the Hyde Amendment" to allow the government to fund abortions
Supports "codifying" the right to abortion
Democrats believe every woman should be able to access reproductive health care
services, including safe and legal abortions
Oppose and will fight to overturn federal and state laws that create barriers to
reproductive health and rights
Opposes current FDA safety restrictions on chemical abortion pills
Supports repealing President Trump's changes to the Title X program that separate
abortion from federal family planning grants.
REDEFINING MARRIAGE
Silent on marriage and family being the
foundation of society
LGBT AGENDA, TRANSGENDER BATHROOMS, AND WOMEN'S SPORTS IN SCHOOL
We will fight to enact the Equality Act -a bill that would alter our entire federal
civil rights framework, gut religious liberty, and advance abortion.
Supports insurance coverage of "gender transition", including "surgery
and hormone therapy."
We will ensure that all transgender and non-binary people can procure official
government identification documents that accurately reflect their gender identity.
Supports banning practices aimed at assisting patients with unwanted same-sex
attraction or gender dysphoria.
We will work to "guarantee transgender students' access to facilities based on their
gender identity.
We will protect the rights of transgender students.
We will fight to enact the Equality Act – a bill that would allow biological men to play in
women's sports if they identify as transgender women.
ABORTION AND THE LGBT AGENDA INTERNATIONALLY
We believe access to reproductive care and abortion services, are vital to the
empowerment of women and girls.
Supports for repealing President Trump's expanded Mexico City Policy and the
Helms Amendment which bar American funding for abortion abroad.
We will restore the United States' position of leadership on LGBTQ+ issues and appoint
"senior leaders directly responsible for driving LGBTQ+ issues within the federal
government."
CONSCIENCE RIGHTS IN HEALTHCARE
Supports the coercive HHS contraception mandate against faith-based groups like
Little Sisters of the Poor.
Condemns the Trump administration's regulation clarifying the definition of
sex discrimination in the Affordable Care Act. This regulation allows doctors,
hospitals, and insurance companies to practice medicine and operate in
accordance with their conscience.
RELIGIOUS LIBERTY
Celebrates the paramount importance of maintaining the separation between
church and state.
Rejects broad religious exemptions for businesses, medical providers, social
service agencies, and others
We will fight to enact the Equality Act – a bill that would remove religious liberty
protections and even force churches to violate the tenets of their faith.
Religious freedom is a core American value and a core value of the Democrat Party.
Democrats will protect the rights of each American for the free exercise
of his or her own religion.
INTERNATIONAL RELIGIOUS LIBERTY
It will be the policy of the Democratic Administration to advocate for religious
freedom throughout the world.
Implies religious freedom is a "cover for discrimination."
Asserts that there is "politicization" of religious freedom within U.S. foreign policy.
GOD IN GOVERNMENT
Silent on the role of God in government.
Silent on the source of human rights.
Celebrates, the paramount importance of
maintaining the separation between church
and state enshrined in our Constitution.
Entire platform mentions God one time.
THE COURTS
We will appoint U.S. Supreme Court justices and federal judges who will
respect and enforce foundational precedents, including Roe v. Wade.
Applauds the decision in Bostock v Clayton County, which redefined the word sex
in Title VII to include sexual orientation and gender identity.
SEX EDUCATION
Supports LGBTQ+ inclusive sex education
with a full range of "family planning
services."
EDUCATION CHOICE
Democrats oppose private school vouchers and other policies that
divert taxpayer-funded resources away from public-school system,
including the program at issue in the recent Espinoza decision.
No mention of homeschooling.
SOCIAL EXPERIMENTATION IN THE MILITARY
We will reverse the Trump Administration's ban (DOD policy on
Gender Dysphoric individuals serving in the military).
Silent on service members' religious liberty rights.
Calls for VA medical benefits to include abortion and gender "transition" services.
---